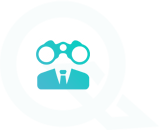 Invest – Token IQ
SUMMARY OF THE OFFERING
The Company
Token IQ, Inc., a Delaware corporation (the "Company").
The Company's Business
The Company was founded in 2017 to develop a software as a service ("SaaS") platform to facilitate the issuance of security token offerings ("STOs") by its prospective customers to their prospective investors. The Company's patent-pending software platform is intended to offer an end-to-end implementation of security token technology, providing the technical means for issuers, advisers, and investment professionals to help bring compliant tokenized securities to investors worldwide. At this time, the Company has no financial history, has generated no revenue, and has no operating history.
Shares Offered
Up to 320,000 shares of Class A Common Stock of the Company, par value $0.001 per share ("Shares"), and/or 32,000,000 shares of Class B Common Stock of the Company, digital securities in the form of distributed ledger shares designated as Token IQ Security Tokens, par value $0.001 per share ("Security Tokens"), the aggregate of the two classes combined totaling up to a maximum of $10,000,000. The Shares are priced at $31.25 per Share with a minimum purchase of 1,600 Shares, or $50,000. The Security Tokens are priced at $0.3125 per Security Token with a minimum purchase of 160,000 Security Tokens, or $50,000. The Shares are represented by stock certificates, and the Security Tokens are uncertificated shares represented exclusively as book entries on a distributed ledger.
Use of Proceeds
The amount and timing of our actual use of the proceeds received from this Offering will depend on numerous factors, including the cash used in or generated by our operations, the activities of our sales organization, and the results of our product development efforts. Our management has discretion over many of these factors.
Suitability of Investors
The purchase of Shares and/or Security Tokens is suitable only for persons of substantial financial means who have no need for liquidity in their investments and who are accredited investors.
Risk Factors
The offering involves certain risks. See Risk Factors in the Private Offering Memorandum at Exhibit F.There is no minimum amount of proceeds for this private placement. We intend to use the proceeds that we receive from this Offering for working capital or other general corporate purposes, including the further expansion and development of our customer security token issuance platform and continued expansion of our sales and marketing capabilities.
---